You know that cliché about how absence makes the heart grow fonder? Well, couples in long distance relationships may not necessarily agree.
How To Survive Long Distance
It is possible to survive the distance and have a strong, healthy relationship… as long as you follow these tips.
Plan Visits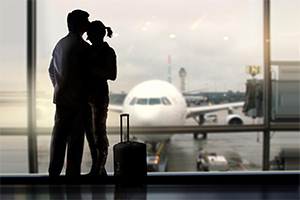 If there's one thing that every long distance couple needs it's a visit from their partner. Making plans to see one another is important because it keeps you feeling connected.
Since there's nothing worse than not knowing when you'll actually be face-to-face again, making plans gives you something to look forward to as a couple.
When you are together be sure to decide when you'll see each other next. After all, saying goodbye is a lot easier when you already have another trip to look forward to.
Say What's On Your Mind
No matter how well you think you may be passing off the "I'm okay" vibe, your boyfriend can tell when something's bothering you.
Instead of letting the unexplained tension eat him alive, it's important that you say what's on your mind. If you're irritated that he didn't call, say so. If you're upset because you miss having him by your side, tell him.
RELATED: How Can I Find Lasting Love?
Biting your tongue in a long distance relationship is never a good idea because it creates worry between you. Just like an relationship, open, honest communication is key to going the distance.
Have Date Nights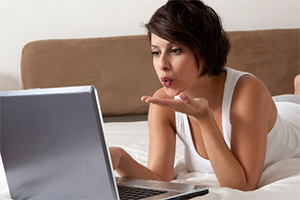 It's hard to build fun into a long distance relationship.
But you don't have to be in the same zip code to have fun together! Instead of settling for casual calls or random Skype dates, plan date nights with your man, just as you would if you were living in the same city.
For instance, you could decide that every Sunday night at 11 you have a "Skype date" and enjoy a glass of wine while chatting. Or you could play an online game, or Skype and watch a movie together.
Having a to-do together is a great way to pass the time and it saves you from having the standard "I miss you" chats. Who knows, you may even find yourself getting frisky on the webcam.
Avoid Jealousy
One of the few upsides to being in a long-distance relationship is that you're always free to hang out with friends. That said, your job as the girlfriends to make sure your man knows you're cool with that — even if his plans involve women you don't know.
Trust me, it'll work to your advantage in the long-run: If you get defensive anytime your boyfriend wants to spend time with a girl, he'll assume it's because you're not being faithful when you're around other men.
Can't make relationships last? I'll give you the information and tools you need to achieve the next level of love, intimacy, and connection. Get the love life you deserve with my Devotion System. Try it right now.
On the other hand, if you're cool with it, you automatically seem more trustworthy, preventing any major jealousy issues before they start.
Stay Positive.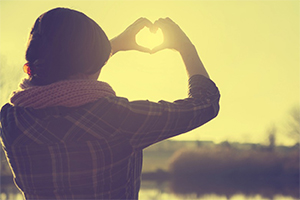 You need to be constantly injecting positive energy into the long distance relationship to keep it alive.
Yes, the waiting can be painful but you need to remind yourself that in the end it will be worth it, so talk about your end goal and keep it in mind as you move day-to-day.
One good trick to staying positive is to be grateful all the time. Be thankful that you have someone to love — someone who also loves you back.
Be thankful for the little things, like the hand-made letter that arrived safely in your mailbox and the sweet text messages you receive. Positivity will keep your relationship loving and strong.
RELATED: How Can I Stop Sabotaging My Relationship?