Valentines has always been about expensive dinners, fine jewellery and chocolates, and while that can be nice, it's fun to switch things up every now and then.
If you're looking to switch gears this V-day then here are some fresh ideas to consider. It doesn't matter whether you've been with your man for three months or thirty years, these fun gestures are sure to give him a Valentines he'll remember! After all, what's romance without a little mystery, surprise and adventure?
Couples Massage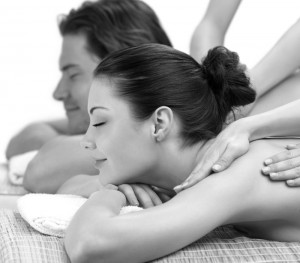 Believe it or not, many men feel uncomfortable booking a spa day for themselves because they think it's more of a "girly" thing to do. Show him otherwise.
Book a couples massage for the two of you or consider what other valentines specials they're offering.
This will give him the opportunity to not only enjoy a nice relaxing rub down, but it'll also do wonders for his sensual side.
If you don't have the cash to spare (spas can be expensive) or you'd rather turn up the heat at home, consider giving him a massage yourself.
Grab some clean towels, scented candles and body oils and get your thumbs in there!
Make a Meal

You don't have to be a mind reader to know that the quickest way to a man's heart is through his stomach. Grab a bottle of wine, a cookbook and some candles and make your man a meal at home.
Skipping the reservation will not only save you both from all the V-day commotion, but it'll also give you the chance to show off your domestic skills. Even if you can't follow a recipe to save your life, simply taking the time to cook will show him that you care about him.
Plus, you don't have to try anything over the top. A simply pasta meal will please just fine! Set the mood and make sure it's intimate. If all goes well, you may find yourselves having dessert in the bedroom.
Send Him On a Hunt

This one is going to require some careful planning on your part, but if you can pull it off he'll love you for it. Set up a scavenger hunt for him, either around the house or throughout the city.
At each spot, have a clue to the next location. Make it exciting by giving him riddles to solve or by leaving questions that only he would know the answer to.
RELATED: Timeless Relationship Tips
The end result can be a meal at his favourite restaurant with you, or even present waiting in store. Since men are hardwired hunters, he'll love a challenge and will happily accept your mission.
Recreate Your First Date

 
Think back to when you first got together and recreate your first date. Where did you go for dinner? Did he pick you up, or did you meet somewhere else?
Once you've got the details in order take the trip down memory lane and allow yourselves to be nostalgic. Over the course of your date talk about your favourite memories and laugh about how far you've come. Bonus points if you can wear the same outfit and perfume as you did one date one.
Have a Stay or Va-cation

There's no denying that February can be depressing, which is why so many people want to travel at this time of year. If (and only if) you can afford it, consider going on a quick getaway with your guy. Check out sites like Groupon for cheap all inclusive deals or drop in a travel agency. A weekend in Vegas? Five days in Mexico? Sounds dreamy!
If travelling far isn't an option right now, then plan a staycation. Sticking close to home can be just as much fun, so pack your bags and get going. Book a downtown hotel room for the weekend or visit a nearby city. Just the idea of being alone together and out of the house is romantic and you'll both remember this V-day for years to come!
Build An Adult Sized Fort

Remember when you were a kid and you used to get excited about hiding in your blanket palace? Well, why not bring it back. Pull out the kitchen chairs, gather the blankets and build away.
Want To Build A Relationship That Lasts? I can help you attract your perfect man, and protect your relationship from the bumps in the road, no matter how big. Not only that, I'll give you the information and tools you need to take your love life to the next level of love, intimacy, and connection. Get the love life you deserve with my Devotion System. Try it right now.
Once it's ready, camp out in there with your favourite movies and treats. Spice things up with some sexual playtime and include the pillow talk. After all, Valentine's is all about the love!
 

Go Camping 
Who doesn't love a good camping trip? Book a nearby campsite and hit the road. From bonfires and card games, to snowshoeing and fishing, this kind of Valentines will go down in history as one of his favourites. Sure it might be cold out, but that's where body heat comes into play. Don't forget the smores!
Check Out a Show
So many couples opt for the movie option, but why not spice things up a bit, it is Valentines after all. Check out a comedy club, hit your favourite pub with live music, or buy tickets to a concert. Go dancing in a jazz bar or even consider some risky burlesque. Letting loose together is a great way to create memories, so let your hair down, laugh until you cry and dance your heart out! He will love this movie alternative.
Get Crafty

This one may take a bit of persuading but with his favourite brews and your positive pitch he won't be able to say no. Like the paint nights so many bars now host, set up your own version at home.
RELATED: How Can I Find Lasting Love?
Grab some canvas, paints, palettes and brushes, and make a theme or contest out of the event. If things get steamy you can always pretend that you're Jack and Rose from the Titanic… "I want you to paint me like one of your French girls…"
Have Sex 
This one may be a given seeing as we're talking about a holiday dedicated to love, but take this one step further and have the sex he wants. If your guy is into dominating then let him. If he likes it when you take the reigns then give it a whirl. Find out his fantasies and as long as you're comfortable with them, consider bringing one or two to life. Whether that means role playing or dressing up, this will rock his world.